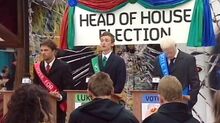 The position of Head of House was introduced in Week 6 of Big Brother 9 and then again in Celebrity Big Brother 6. The Head of House cannot be nominated for eviction and is therefore immune from eviction for that week, but can still nominate. Once a housemate has stood as Head of House, they cannot stand a second time.
The Head of House's responsibilities included:
Writing the shopping list by his or herself for that week.
Deciding who does what in the shopping task.

The first ever Head of House was Darnell Swallow.
Head of House should not be confused with the position of Head of Household in the U.S. version of Big Brother.
Week 6: Darnell Swallow
Week 7: Dale
Week 8: Stuart
Week 9: Rachel
Week 10: Michael
Week 11: Rex
Week 12: Mohamed

Week 1: Terry Christian
Ad blocker interference detected!
Wikia is a free-to-use site that makes money from advertising. We have a modified experience for viewers using ad blockers

Wikia is not accessible if you've made further modifications. Remove the custom ad blocker rule(s) and the page will load as expected.