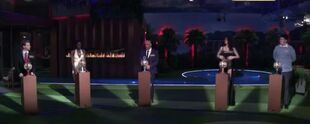 The
Big Brother 16
Launch Twist was the first twist of the series and took place on launch night. It was the first 'time bomb' to be dropped and involved 5 housemates opening 5 random timebombs to get either something good or something bad. It is notable for being the first time ever that a housemate has been evicted on launch night.
Before the Twist
Edit
Host Emma Willis teased that the twist was something that Big Brother had always wanted to do. Viewers were quickly instructed to vote for a housemate to take part in the twist on the Big Brother app.
The Twist
Edit
Housemates were gathered in the garden, where Big Brother revealed the five housemates that had been chosen by the public to take part in the twist: Jack, Adjoa, Jade, Nick & Simon. Five timebombs had been placed in the garden & the housemates had to choose one to open.
The Timebombs
Edit
Ad blocker interference detected!
Wikia is a free-to-use site that makes money from advertising. We have a modified experience for viewers using ad blockers

Wikia is not accessible if you've made further modifications. Remove the custom ad blocker rule(s) and the page will load as expected.