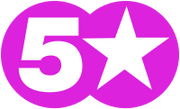 5* is one of Channel 5's sister channels, it can be considered its equivalent of Channel 4's E4. It currently airs repeats of the Big Brother main show the day after it is first broadcast on Channel 5. It also shows the live feed show Big Brother: Live From The House.
Ad blocker interference detected!
Wikia is a free-to-use site that makes money from advertising. We have a modified experience for viewers using ad blockers

Wikia is not accessible if you've made further modifications. Remove the custom ad blocker rule(s) and the page will load as expected.